Blowing My Landlord
I recently moved up to Queensland and my new landlord and his wife have been great. He and I would often have a beer in the apartment complex pool (yes we both wore speedos).
One night after a few beers The Landlord confessed to me that when he was a younger man he fooled around with guys. So far I've written about two experiences I've had with The Landlord and I bet there will be more.
Click here to read about the first time.
Speedo Movie Brings Back Memories

This movie/photo shoot were super hot for me because it kind of describes how I lost my gay virginity.... it was fooling around with a friend, by the pool, in speedos and things got horny.
Being horny is a speedo is pretty hard to hide and my 'first' and I both started fooling around. It turned in to a regular thing that summer, hanging out in speedos, watching porn and sucking each other off.
The guys in this porn shoot don't take things as slowly as I did all those years ago. Enjoy the movie and I hope it brings back some memories for you..
Fun Speedo Couple
Movie Length: 28 mins and 8 secs
This movies was added just this morning but I've been enjoying it over the last 2 days. These cute young guys look fantastic in their speedo and they fuck really hard. I can count me jerking off to this movie 5 times in the last 2 days and I think you'll have similar results when you watch it.

Catch you guys later - speedo on!!!!
Dave xoxoxo
Webmaster: www.SpeedoFetish.com
100% Gay/Bi Owned and Operated
Speedo Galleries
As a younger man I would have been afraid of a BBG (Big Black Cock) like Max has in this professional porno shoot, but these days... I'd like to give it a try.
Click the image below and see soem photos and a 5 minute sample clip..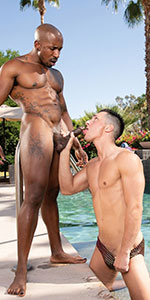 Important Links:
Photo of the Day
Each day (nearly each day) I choose a speedo photo from the archives that I personally love. Sometimes I sneak one of my speedo selfies in there as well..
Full Unrestricted Membership - $4.95
I created an unrestricted trail membership so that you can drop in and see what it is all about.
Some guys prefer to just join for a few days at a time which is great. Visit the join page.